| | |
| --- | --- |
| Artikelnummer: | HW30105000 |
| Aantal op voorraad: | 0 |
High reliability and durability
Equipped with the most robust and highest quality components combined with state-of-the-art firmware, the EZRUN MAX6 delivers unsurpassed performance and performance in the new Genius XR4e, HARM E-Drive and Mecatech FW01 E-power. In addition, he is sensitive enough to protect himself from damage caused by overload or even human error.

Features:
Programming input: fan / PRG input
ESC programming:
LCD Program Box
LED Program Box
Set-up button
BEC output: 6V / 7.2V with 6A (switchable)
Motor socket system: 6.5mm gold contact
Cont. / Peak current: 160A / 1050A
Great flexibility and versatility
With incredible acceleration and a powerful and stable output, the models can do a variety of moves without any problem. Whether it's an aggressive start with a wheelie, a killer jump or a high-speed test, the controller handles everything with ease. In addition, the controller can be programmed with a variety of parameters to get an excellent control of the model and to respond as sensitively as possible in the gas / braking curve.
Suitable for all weather conditions
Excellent against water and dust sealed make this regulator a weapon in any weather or under any conditions. Whether extremely dusty slopes, rainy roads, snow, puddles or gravel, with the MAX6 it goes on and on.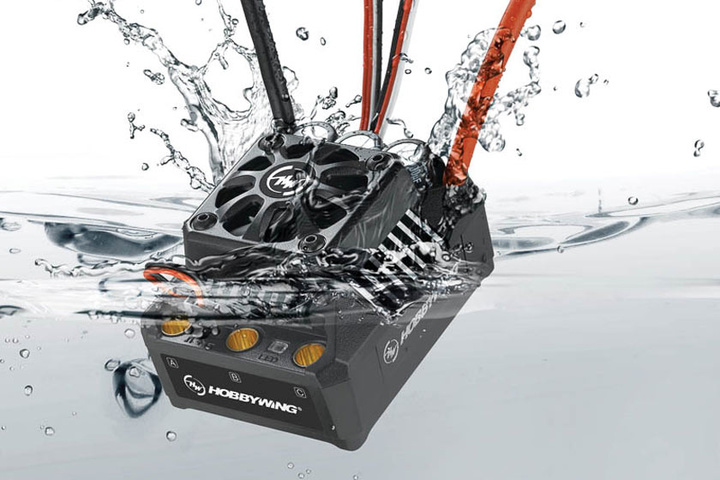 Advanced and secure electronic switch
This electronic switch has a lifetime of more than 50,000 switching operations and is also completely water and dust proof and also has a shockproof design. As a result, problems such as rusty contact points or moisture in the switch are a thing of the past. Also, he can not turn himself off after hard landings or accidents like a conventional mechanical switch.
Super built BEC
The world's first controller with built-in super high-current BEC which has a max. Output power of up to 25A can provide. In addition, the output voltage is adjustable between 6V & 7,4V. The high-current BEC was developed to provide the current high-current servos with sufficient power on request and thus to be able to precisely control large models.
Plug and play
Standardly equipped with 6.5mm gold contact sockets, the plugs of most brushless motors can be plugged directly into the controller. Also on the battery side, the widespread Traxxas connector is already soldered, thus eliminating the annoying soldering in most cases and the controller can be put into operation immediately.
Regular firmware update included
You can easily update the MAX6 with the Hobbywing USB Link Software, the Multifunction LCD Program Box and a laptop or PC. Hobbywing regularly provides a new firmware which includes great new features.
Integrated anti-spark system
The MAX6 is equipped with an internal anti-spark circuit, which protects not only the battery but also the fingers when connecting the LiPos. Especially when connecting LiPos with a very high voltage such as (5S / 6S / 7S / 8S), sparking can occur, which is avoided by this system.
Large application area
This regulator is ideal for use in any 1/7 & 1/6 model such as the Traxxas XO-1. But it is also suitable for very heavy and oversized 1/8 models like the CEN GST-E. It is the ideal choice for high-end models that are highly demanded or aggressively operated.
Almost maintenance free
The whole controller with the exception of the fan is basically maintenance-free. All you have to do is remove the fan cover to replace the fan if necessary. It is thus no opening of the housing or the like necessary and the whole process is done quickly and smoothly. In addition, the fan has been designed shockproof to withstand regular high jumps and hard landings without damage.
Technical specifications :
Plug system rechargeable battery: Cable for soldering a plug
Motor type: Sensorless Brushless
Applications: 1/5 Scale Touring Car, Buggy, Truggy and Monster Truck
Motor Limits Brushless: 8S LiPo / 24S NiMH: KV <= 1000 (58110 Size)
LiPo / NiMH cells: 9-24S NiMH / 3-8S LiPo
Internal resistance: Ohm
BEC output: 6V / 7.2V with 6A (switchable)
Fan: Yes (supply via built-in BEC)
Size (LxWxH): 70 x 65 x 46.5mm
Weight: 240g